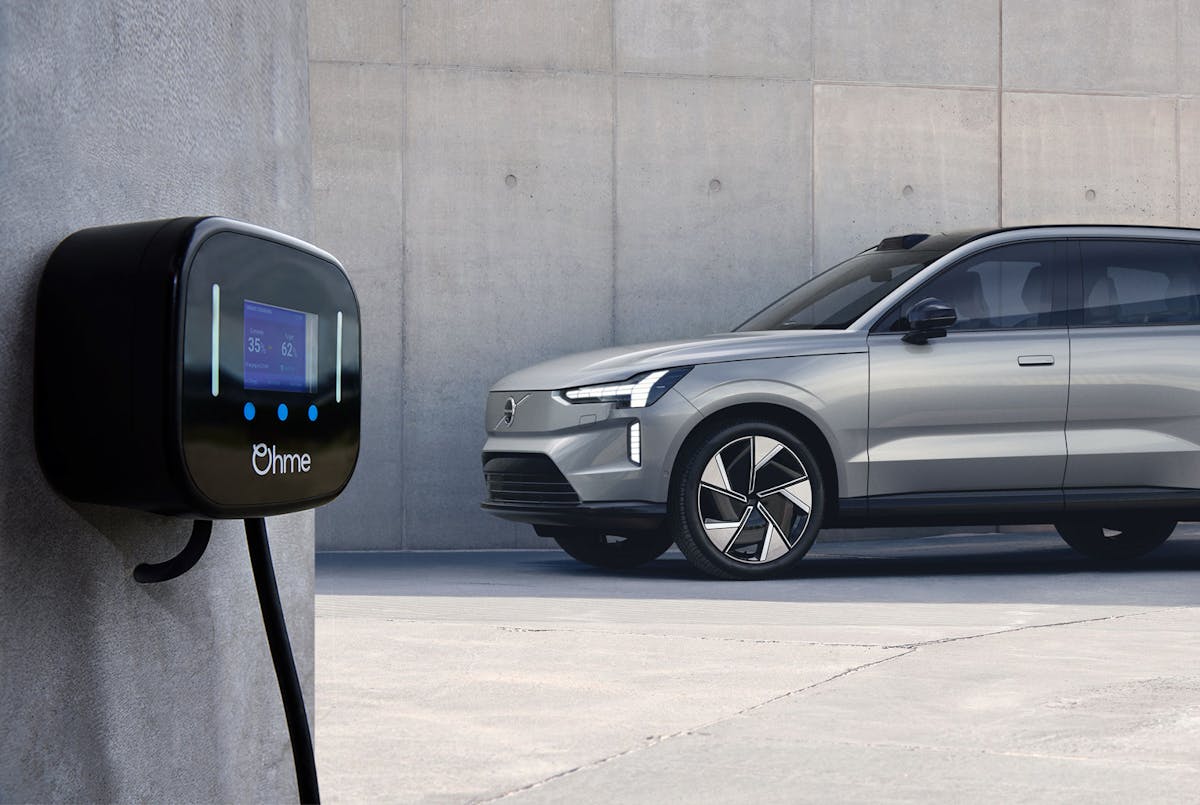 Cork-based smart charging company Ohme is the new official charging partner for Volvo CarIreland.
The agreement will see Volvo Car Ireland recommend Ohme chargers for all of its electrified vehicle sales with an Ohme Home Pro charger in showrooms for customers to view.
"Our partnership with Volvo underlines Ohme's position as one of Ireland's fastest growing smart charging companies," said David Watson, CEO at Ohme. "With Volvo Car Ireland now exclusively offering electrified vehicles from its Recharge range of pure electric and plug-in hybrid models, it is at the forefront of electric motoring. At Ohme, we're looking forward to introducing those drivers to the benefits of off-peak charging with reduced running costs and working with retailers to help their customers through the entire process."
"We are delighted to announce that we will be partnering with Ohme as our official home charger supplier," says Alan Cowley, Commercial Director and Acting Managing Director for Volvo Car Ireland. "Ohme's award-winning Home Pro charger and reputation for excellent customer service meant it was the perfect choice both for now and the future with the eagerly-anticipated forthcoming EX90 coming next year and Volvo aiming to be a fully electric car brand by 2030."
Ohme's range of smart chargers can connect seamlessly with all of Ireland's electricity suppliers and automatically adjust an EV's charging for drivers to take advantage of off-peak tariffs.
For instance, charging a 78kWh Volvo C40 Twin Pure Electric from zero to 100 per cent with an Ohme Home Pro on an off-peak tariff, such as SSE Airtricity's Night Boost*, could cost just €8.23 for an electric range of more than 451kms (WLTP Combined). Over the course of a year and 10,000kms of driving that would equate to running costs of just €183.
Ohme also offers drivers the option to charge their car when renewable energy generation is at its highest, further lowering their CO2 impact. Ohme already works with a number of other partners across Ireland including the AA, Donegal County Council and Iarnród Éireann.
* SSE Airtricity Night Boost tariff – 10.55c/kWh
ENDS
For more information please contact:
Nat Barnes, Head of PR, Ohme – +44 7917 829088 – nat.barnes@ohme-ev.com
Maria McEnery, Volvo Car Ireland, +353 85 876 2176 – maria.mcenery@volvocars.com
About Ohme
Based in Cork, Ohme was founded in 2017 and is Ireland's leading smart charging platform provider.
At the forefront of EV charging, Ohme offers a smart charging system solution for consumers, business and fleets that enables consumers to charge at off-peak times and reduce their charging costs and environmental impact.
Ohme has been named by outside investors as a 'gigacorn' – a company that has the potential to get rid of one gigatonne of CO2 from the atmosphere per year.
About Volvo Car Group
Volvo Cars was founded in 1927. Today, it is one of the most well-known and respected car brands in the world with sales to customers in more than 100 countries. Volvo Cars is listed on the Nasdaq Stockholm exchange, where it is traded under the ticker "VOLCAR B".
Volvo Cars aims to in its ambition to become a fully electric car maker by 2030 and in its commitment to provide customers with the Freedom to Move in a personal, sustainable, and safe way. This is reflected an ongoing reduction of its carbon footprint, with the ambition to be a climate-neutral company by 2040.
As of December 2021, Volvo Cars employed approximately 41,000 full-time employees. Volvo Cars' head office, product development, marketing and administration functions are mainly located in Gothenburg, Sweden. Volvo Cars' production plants are located in Gothenburg, Ghent (Belgium), South Carolina (US), Chengdu, Daqing and Taizhou (China). The company also has R&D and design centres in Gothenburg, Camarillo (US) and Shanghai (China)