What is a standard installation?
It's a bit tricky to definitively say what a standard installation involves, but generally speaking it will involve fitting the charger not too far from your main fuse box (AKA consumer unit - the box with lots of switches, probably under your stairs). Drilling through one wall shouldn't be an issue but drilling through multiple walls, or running cabling a long way from your main fuse box, can make the installation a little more complex – this means that you'll probably have to pay a bit more because yours may be a non-standard installation. Completing your home survey helps our install partners to provide an accurate quote for the work, so there are no surprises once the job is complete.
How do I pair my Ohme Home Pro to my app?
Head to the App Store/PlayStore to download the Ohme app. Then, create an account where you will be prompted to scan your charger's QR code. Take a look at the base of your charger and you'll see a sticker with a QR code. This is also displayed on your charger screen before it has been paired to an account.
Charger has just been installed but is showing as 'Offline' in my Ohme app dashboard
The Ohme app will show as online and connected once you have plugged it into your car. If you are waiting for your car to be delivered the Ohme app may show the charger as offline until you first plug in.
How do I check if my Ohme charger is online?
If you open up the Ohme app and head to 'My Charger', you'll see if the charger is online or offline. If you notice that your charger is offline, you can click the 'reboot' button here to powercycle your charger. This should get you back online.
How can I edit the current session from the Ohme Home Pro?
Once the car is plugged in, you'll see the option to 'edit target' on the charger screen. Here, you'll have the option to edit the current session from the charger itself. This overrides any price cap you may have set in the Ohme app.
How do I charge instantly from the Ohme Home Pro?
Once the car is plugged in, you'll see the option to 'max charge' on the charger screen. This will override any schedule or price cap you have enabled and start charging right away.
Can I turn the screen/LEDs off?
It isn't possible to turn the screen off completely, but you'll notice that the screen dims when not being used. Tap the screen or buttons and the screen will light up again.
What do the icons on the Ohme Home screen mean?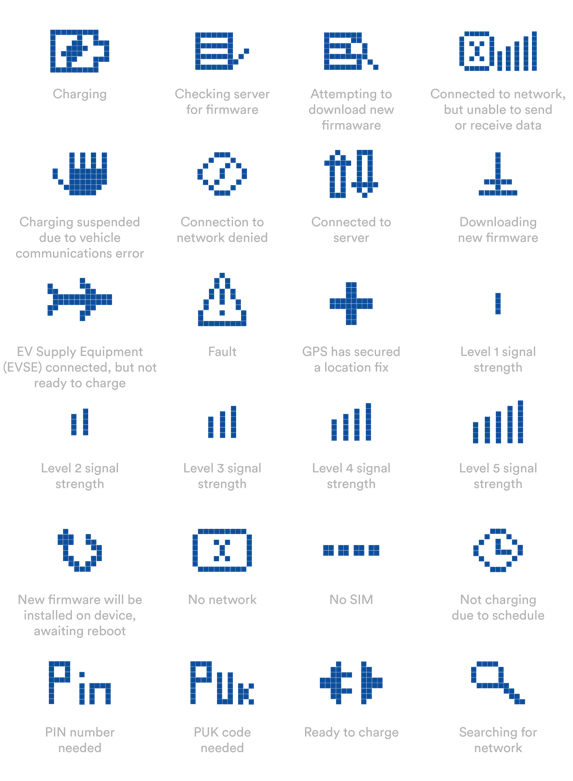 What do the buttons mean on the Ohme Home Pro?
These are contextual and depend on the screen that is currently displayed.
How is the Ohme Home Pro attached to my wall?
The wall mount plate is screwed to the wall and charger slots into this.
Why do all the LEDs light up when I touch the front of the Ohme Home charger?
This happens because Ohme has a hidden touch sensitive button that when double tapped, will enlarge the QR code on the screen, as well as display the device's serial number.
Can I lock my charger while I'm not using it?
Yes, you can. If your charger is on the latest firmware, you'll find settings in 'My Charger' that allow you to keep your charger secure. If you can't see these settings, please email help@ohme-ev.com for help getting set up.
What do the lights on the charger mean?
If you own an Ohme Home:
If you own an Ohme Home Pro:
No light: Finished charging / unplugged.
Blue: Delayed charging (not currently charging, according to schedule).
Green: Active charging, according to schedule.
Flashing green: Active charging, but car not drawing power.
Red: Error.
What is the idle power consumption?
The idle power consumption of both the Ohme Home and Ohme Go cables is between 2-3W. Over the course of a 24 hour period, this would mean the total energy consumed is around 0.072kWh. This works out to be about a 2p per day based on a 30p/kWh rate. For the Ohme Home Pro it's about 5W, totalling about 0.12kWh over 24 hours. This works out at 3.6p a day.
How long is the Ohme Go cable?
To ensure the product adheres to regulations, the length of the cable from the box to the input socket can be no longer than 300mm. This is to ensure the box, which houses the safety equipment inside, can never be accidentally run over or crushed whilst in operation. The output cable is 5m long.
Are Ohme chargers waterproof?
Yes, Ohme chargers are waterproof and rated IP55, meaning they are resistant to all weather types but should not be submerged in water.
What is load balancing?
Your Ohme Home Pro can charge at a maximum of 32A. If there are other appliances using electricity at the same time as the charger (such
as a power shower or washing machine), the Ohme Home Pro will automatically adjust the amount of electricity that it's delivering to your
car to prevent there from being an overload to your circuit. This feature will only work if a CT clamp has been installed.
What is PEN fault detection?
PEN (Protective Earth and Neutral) fault detection functions to disconnect the vehicle from the live, earth, and neutral conductors if the voltage is above or below the prescribed levels (in the UK, that's above 253V or below 207V).
Do I need an earth rod or alternative earthing solution?
The Ohme Home Pro has in-built earthing so you don't need an additional earthing solution.
What is the max charge rate of the Ohme Home Pro?
What networks does the Ohme charger connect to?
All of our chargers contain a 3G/4G SIM that connects to the big four networks: Three, EE, O2 and Vodafone. The unit will connect to whichever signal is strongest in your area.
Do I need a mobile phone signal for Ohme to work?
Yes, Ohme requires a strong 3G/4G mobile phone signal to work as a smart charger. You will still be able to use your charger without phone signal, but you won't be able to benefit from Ohme's smart charging capabilities.