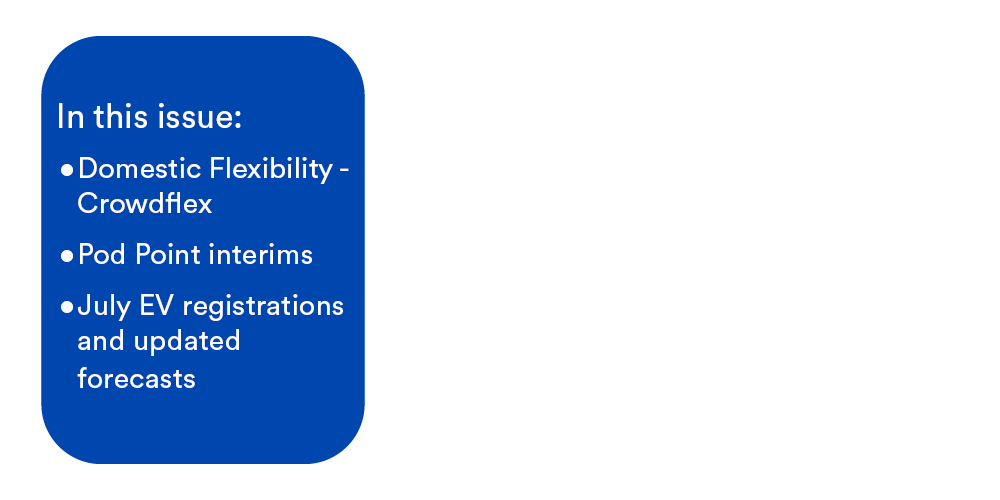 Domestic Flexibility
With increasing wholesale prices and increased costs of balancing the energy system flowing though into consumers bills, (£1.3BN last year!), it's unsurprising that 'domestic flexibility', (whereby consumers can shift their energy demand to periods of cheaper energy prices), is becoming an increasingly important topic. Indeed, the latest consultation from BEIS; Delivering a Smart and Secure Energy System suggests that domestic flexibility can deliver savings of some £10Bn per annum by 2050, over £350 per household.
We're therefore excited to see that our Crowdflex project, exploring consumer behaviour to understand how domestic flexibility can support the coordination of energy consumption, generation, and grid management, has been awarded further Ofgem funding! Read more here.
We've been working alongside the fantastic teams at National Grid ESO, Octopus Energy, Scottish and Southern Electricity Networks, Western Power Distribution, Element Energy & Centre for Net Zero (part of the Octopus Energy Group) on what aims to be the UK's biggest trial into home energy flexibility.
So, we're really looking forward to continuing to work together, encouraging homeowners to do their bit to help balance the grid, and find ways to save everyone money and further reduce our carbon footprint in the long run.
Pod Point Interim Results
Pod Point announced their latest 'interim' results for the first half of 2022 last week revealing some interesting insight into the state of the home charging market, here.
Whilst 'Home' segment revenues increased to £27.2M and Home charger sales increased to 36k (+64%) in the first half of '22 compared to the same period last year, margins fell by 5pp to 23% as a result of increased costs, (due to supply chain issues), and a higher mix of OEM sales during Q1 when they received priority versus higher margin consumer sales during the Q1 period when OZEV grants were ending.
Increasing wait times for delivery of new BEV's and PHEV's are likely to further impact the second half performance, with Pod Point stating "shortages of new vehicles make it very difficult to predict PiV registrations for H2 2022; it is clear, however, that some of the growth we expected this year will be delayed into 2023 and will impact our H2 results to some extent".
The latest SMMT results continue to reflect these challenges, so it will be interesting to see how this impacts charger sales, revenues, and profitability over the course of the next 6 months with all suppliers chasing a smaller market than predicted.
July Vehicle Sales
Supply chain shortages continue to impact OEM supply chains and vehicle manufacture, with the latest SMMT registrations revealing a 9% fall, year on year, for the month of July, here.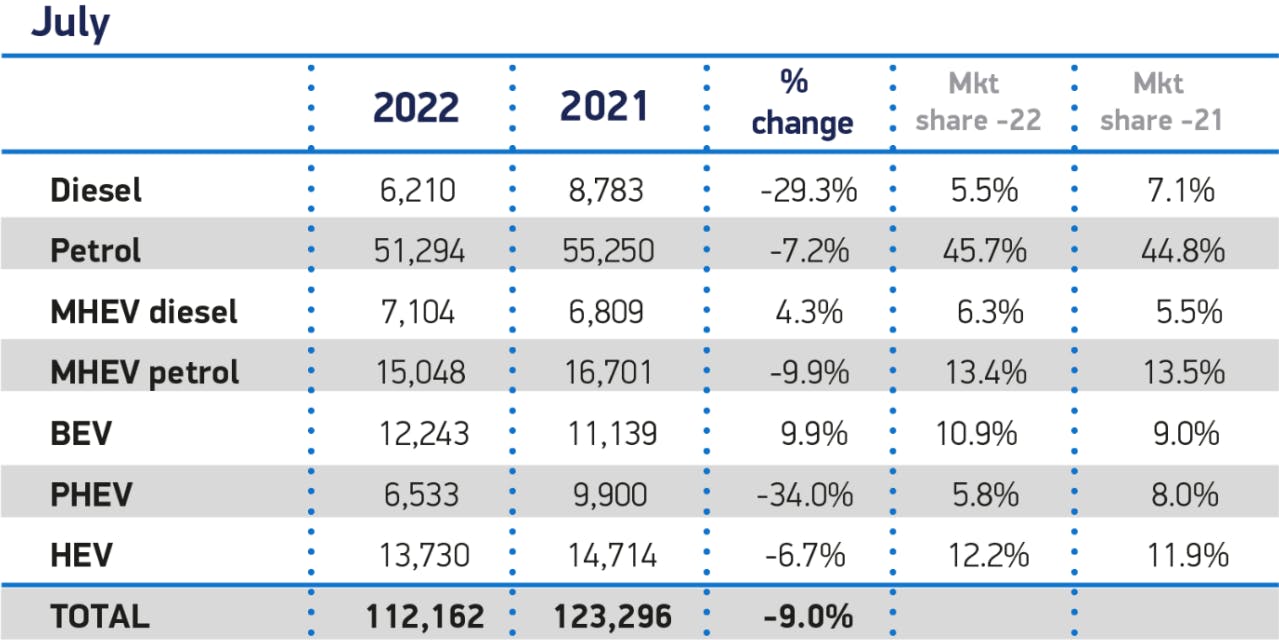 Whilst full electric BEV's continued to grow, PHEV's fell by a third, meaning that overall sales of Plug in Vehicles fell again, year-on-year.
Indeed, the latest quarterly forecast now suggests BEV sales will only account for 252k registrations versus the April forecast of 289k registrations, with PHEV's also forecast to decline to 110k registrations versus the previous 144k forecast.
Want to receive this Weekly View straight to your inbox? Sign up here