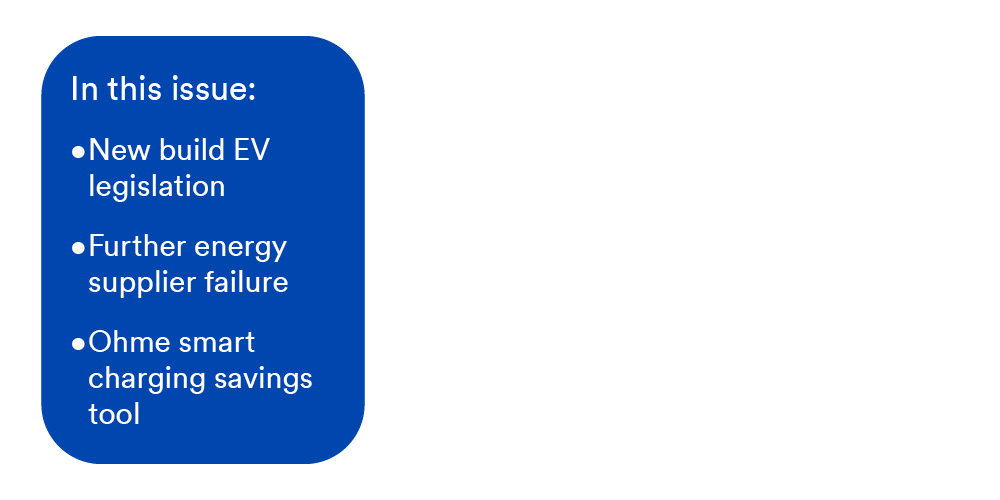 New EV charge point legislation
The government has finally announced plans to introduce new legislation requiring all new developments, domestic and commercial, to have electric vehicle chargers installed from next year. In addition, commercial re-developments with more than 10 parking spaces, will also need to install charging points, resulting in more than 145,000 additional chargers being installed every year. The full consultation can be found here.
Building on the 250,000 charge points that have already been installed across homes and workplaces, customer purchasing a new property in the future will find that their new homes are already EV ready, and with new smart charging legislation also coming into effect from next June, will be able to benefit immediately from smart charging tariffs and the resulting reductions in driving costs per mile. Great news for EV drivers!
Energy Supplier turmoil
After months of speculation, Bulb Energy, the UK's 7th biggest supplier, with more than 1.7M customers announced that they are now appointing administrators, here, days after Ofgem announced further consultations on reviewing the methodology of future energy price caps; here.
Bulb stated that whilst they received lots of interest from investors to fund their business plans and future growth, the rising energy crisis in the UK alongside the price cap—designed to protect customers—meant that they were currently providing energy at a significant loss, which has ultimately resulted in their demise.
With 2% of customers in the UK now driving a plug-in-vehicle, some 30k EV drivers are likely to be impacted by this announcement, now finding that they will default to the standard variable tariff at c. 23p per kWh.
Whilst customers should wait to hear from the administrator in the short term, several suppliers still continue to offer time of use EV tariffs, and once they have clarity on the position of their energy account should then look to switch supplier and benefit from the resultant decrease in their driving costs.
Smart Charging Savings
To help customers understand what savings can be delivered from a smart time of use tariff, the Ohme team have built a simple to use online calculator highlighting the typical driving costs for every plug-in vehicle in the UK, comparing costs when charging on a standard variable tariff, the costs on a typical smart charging tariff, and the comparison for a similar sized petrol vehicle. Simply head to the bottom of our homepage and find the 'How much can i save?' button here.

With commentators now predicting that the next price cap will increase by over 30% in April '22, here, these savings are only going to grow in the short term.
Prospective EV drivers are encouraged to use this new tool and help them to understand exactly what benefits they could generate by switching to a new electric vehicle, Ohme charger and smart charging tariff.