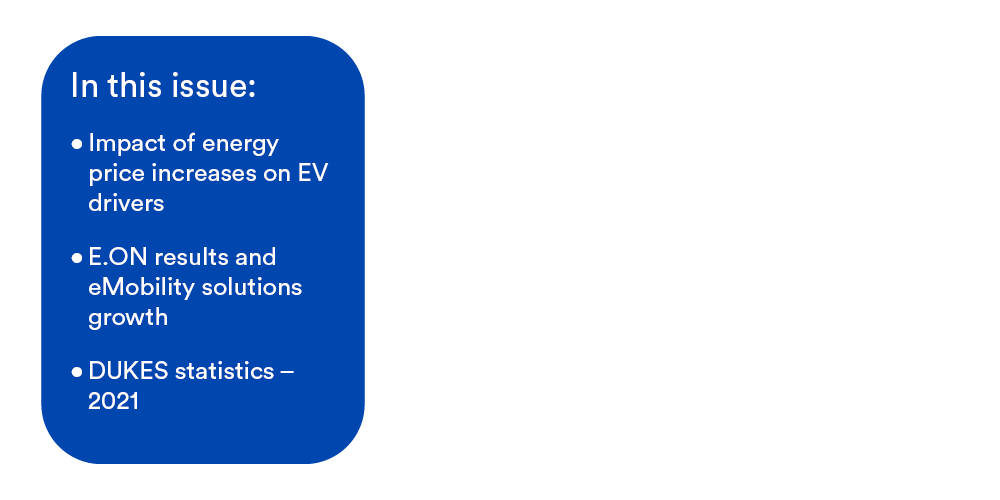 EV drivers facing significant price increases
With industry experts now predicting a doubling of energy prices to over £4,200 per annum for a typical household, here, here, it is clear that many household budgets will be squeezed this winter.
With EV drivers, (charging at home), consuming at least 50% more electricity than average, tariff choice over the winter period will be critical in mitigating the worst impacts of these unavoidable price increases.
The graph below details the annual electricity bill for an average household, consuming 3,100 kWh, alongside the additional consumption for an EV customer, with average mileage of 6,800 miles per annum and an EV delivering 4 miles per kWh.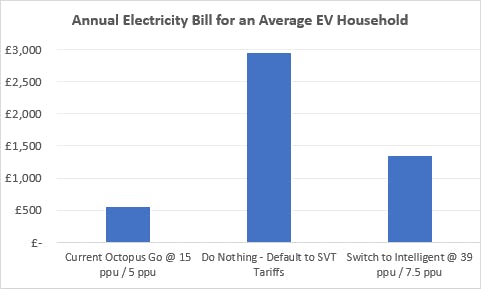 The numbers are quite staggering! An Octopus Go customer, currently paying 15p per unit peak rates and 5p per unit off peak rates will see their electricity bill increase from c. £500 to almost £3,000 if they do nothing, and simply default onto the Standard Variable Tariff when their current contract ends.
However, if they switch to Intelligent Octopus, currently priced at 39p per unit peak rates and 7.5p per unit off peak rates, (for 6 hours of cheap charging), this increase can be reduced to under £1,500, a saving of £1,500!
The message is clear. EV drivers need to examine the tariff they are currently on and determine whether switching to an alterative EV tariff currently on offer avoids the worst of these potential increases.
Unfortunately, we are all going to have to pay a lot more for our energy this winter. However, acting now could reduce some of this pain!
E.ON drive EV installations
E.ON have followed Centrica in announcing bumper profits for the first half of 2022, with their UK business alone increasing profits by 77% to €289M; here, with Group profits of €2.7Bn.
Their Capital Markets story reveals that eMobility wallbox installations have increased by 15k in the last quarter, to > 40k, with E.ON amongst the top 3 for eMobility solutions across their core markets of Germany, Denmark, and Sweden. It will be interesting to see how the UK business develops its solutions to replicate this growth.
Renewables reduction in 2021
The most recent update on the UK's energy usage from the government reveals that in spite of increased investment, with more wind and solar power capacity being built, our overall 'mix' of Renewables fell last year from 43.2% to 39.6%, less than that generated from fossil fuels, here.
Lower than average wind speeds, less rainfall to power our Hydro-electricity plants, and lower average sun hours, all contributed to this performance, revealing the impact of our changing weather patterns on the UK ambitions to deliver 'net zero'.
Whilst we have little influence over the weather, we can all ensure that EV drivers are doing their bit to reduce their carbon footprint by selecting Ohme's Favour Green Energy setting, which will charge the car when electricity is at its greenest (i.e. generated from renewables rather than fossil fuels). In addition, drivers need to select a smart EV tariff, which will again help to shift charging demand away from those peak hours which tend to rely upon fossil fuel generation, to periods of the day with a higher mix of low carbon generation.
Want to receive this Weekly View straight to your inbox? Sign up here